From fear and dejection to confidence and hope, these young transgender women walked out with pride of who they are.
April 25th, 2019
. Sahodari Foundation with aid support from Rotary Club of Coimbatore Texcity and Groupon India began a major step in reaching out to desperate and deserving young transgender people and offering them a very useful and powerful youth leadership workshop which will lead them to empower their lives. I conceived the workshop to identify and groom young transgender persons in India to pursue their dreams of living with dignity and happiness, a life away from the melancholy of begging and sex work.
My idea came to a reality when I was invited to speak at Rotary Club of Coimbatore Texcity for speaking at their weekly meeting to its board members where I met Rotarian Suji Somasudaram of Rotary Club of Coimbatore Texcity who introduced me to the president of the club Rtn.Phf. Senthil Kumar.K, secretary and Rtn. MD.Vijayakumar.S.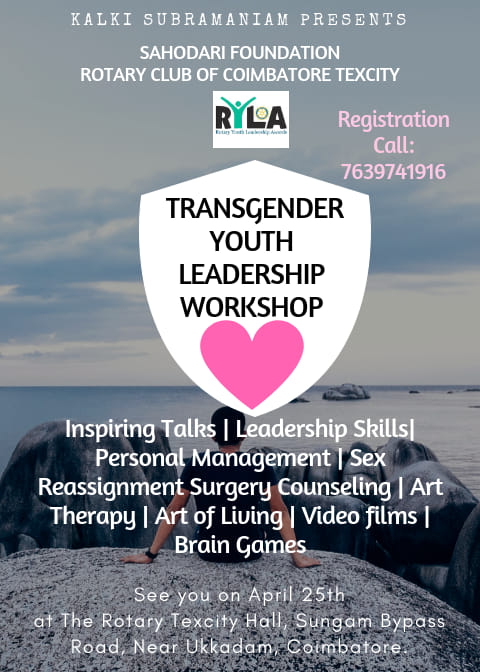 My idea of a leadership workshop was immediately accepted as the club had the idea of conducting an RYLA (Rotary Youth Leadership Awards) for transgender youth. Both the ideas were similar, just the names different.
In a week's time, it became a reality. All thanks to the Rotary Club which came forward to support 70% of the costs for conducting this event. The rest 30% was funded by Sahodari Foundation.
After quite a successful outreach, all the 20 seats were registered in a week's time. Participants came from Kerala and Tamilnadu, from places as far as Chennai and Kannur. The program was conceptualized by Kalki and each segment, its activity, and the invited speakers was carefully selected to give only the best knowledge and positive messages that will have a deep impact on the young trans people.
My purpose was to change their mindsets from desperation and fear to hope and confidence. Though she has offered several workshops for the transgender community, this was the first time a full-fledged leadership workshop was initiated.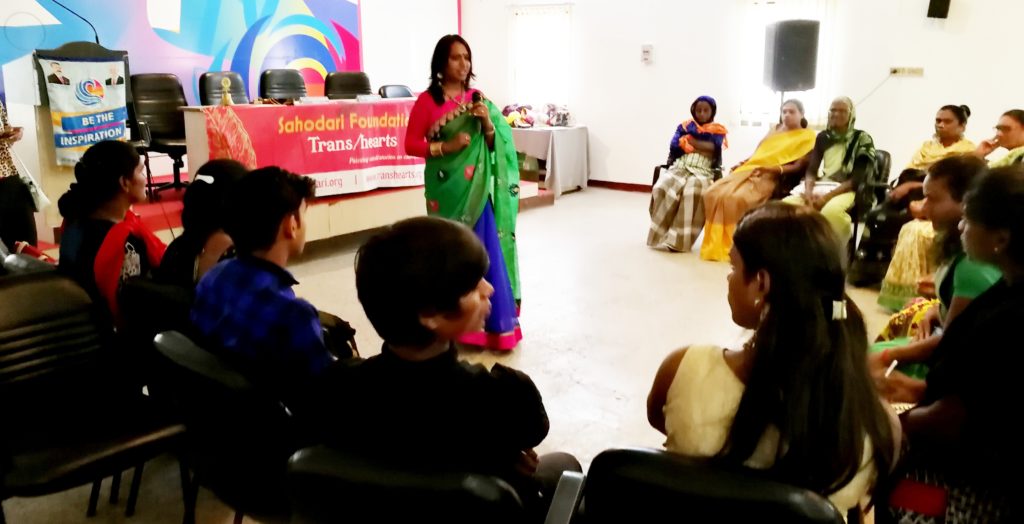 Kalki Subramaniam speaks
Rotary Club of Coimbatore Texcity was so open and welcoming in conducting an RYLA for TransYouth. On April 25th, 2019 at 9.30 a.m, the workshop was inaugurated with Rtn. K.A Kuriachan as the chief guest of the event. The president of the Club, the secretary, and board members were present during the inauguration. Mr.kuriachan told the importance of equality, unity, strength, and believing in oneself, he guided transgenders towards confidence, self-love, and being strong. Special invitees A.Revathi and Olga Aaron were presiding the event. All the participants were excited about the day. Later the Rotarians of the club left wishing the participants their best wishes.
The workshop started with my speech on the purpose of the workshop and how it is meant to help, support, and empower the lives of participants. Though a one day workshop, I wanted to utilize every moment of time to its utmost potential. So I requested to participants to be conscious of time and give their focus 100 percent.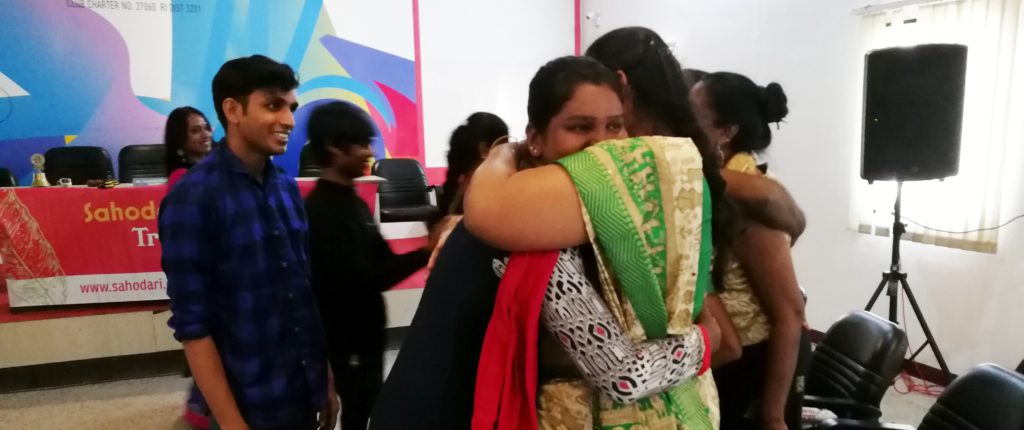 Hugs of Trust
After self-introductions of everyone and moved on to two groups, the young persons were grouped as four and were assigned to senior transgender leaders for trusting and opening their hearts to speak out their major personal hurdles and seek out advice from them. The mentorship started with trust-building, experience sharing and nonjudgemental genuine advice seeking. That was the most important opening session of the day since the participants spoke and we mentors listened.
In the next session, the participants present were seated in the circle they were encouraged to speak openly about their life backgrounds, giving us a picture in which ways each one of them needed help, support and guidance in shaping their future.
Everyone in the room hugged each other bringing an assurance that they were not alone and provoked unity in the trans community. The guest speaker of the afternoon first session Mr. Ramesh taught the participants on the art of living with clean mental and physical state through yoga and meditation practices. This session was directed to be a part of the powerful human change through discipline and yoga practices for better and conscious living.
Transgender activist, writer, and theatre personality A.Revathi narrated her painful yet inspiring life story and the oddities she faced and how it made her weak, and facing it with courage made her strong and a leader among the community. The next session was followed by Mr.Arun Balakirishna bringing the participants great fun and laughter with some amusing brain and physical games which made the participants bend their body and mind.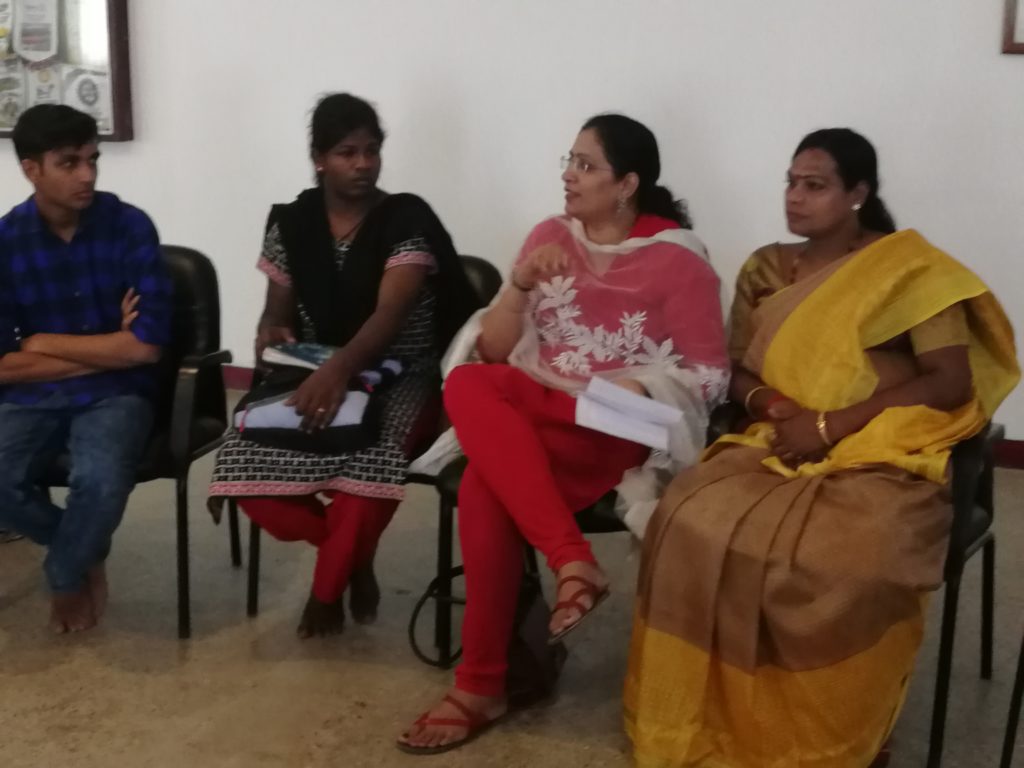 Bridget speaks on the power of creativity
Art curator and administrator of Art Houz Bridget Shibu Thomas of Jennys Club of Coimbatore gave a powerful talk about being non judgment about one's own creativity. She listed why self-criticism is useless and show the power of practice brings perfection.
I was constantly motivating the participants, encouraging them to speak out, address their issues, and inspired them not to think themselves as a victim of circumstances but to be strong, challenging, and design our own destinies with the right decisions and how to take that right decision.
The last session of the day was conducted by transgender youth and upcoming artist V.Kanchana. She asked the participants to dream of their ideas of themselves in five years. They were encouraged to visualize their life and dreams. some of them want to be a mother, a model, a dancer, a winner, a leader, and just like they all have their own ideas of love and life they can be human resources in society.
At the conclusion of the workshop, Ms. Olga Aaron shared her speech about how it is important for transgender persons to understand the rights and duties and to have dignity. She spoke on the importance of law in society, to create a secure place in workplaces including private and government sectors for trans people. She talked about the human rights and constitutional violations against the transgender community that has been in practice since the history of the community of transgender people.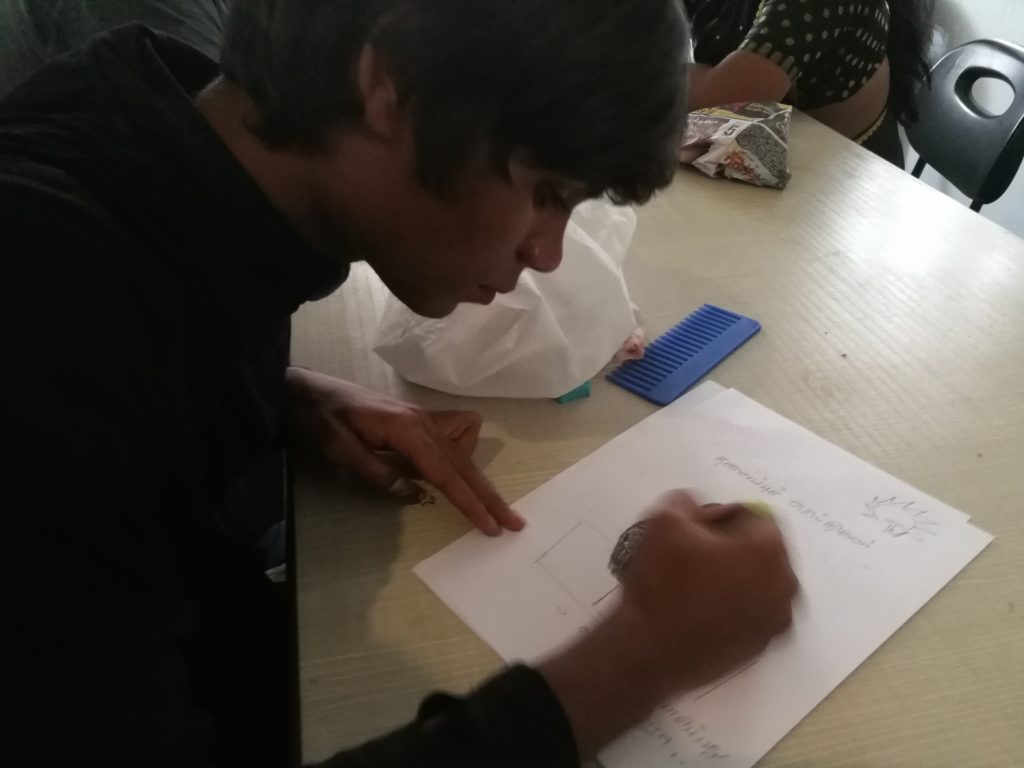 Sara visualizes her dream of becoming a Television presenter


Participating in this workshop is a big step towards a good and healthy life they wish for, they take courage, hope, and leadership skills with them. Along with me, Mr. Kurianchan and Ms. Olga invited the participants and offered them certificates to recognize their participation in the workshop.
That evening they left with pride and lots of friendships to nourish and cherish their lives a very very long time. Bondings and inspirations that will inspire and uplift their lives.
Sahodari Foundation will reach out to more and more trans youth and support them through a series of these workshops in the future.
Our sincere thanks to Groupon and Rotary Club of Texcity Coimbatore for their support. Groupon's Aid will help us to do a series of workshops this year for the transgender youth to empower their lives.

Visit our website www.sahodari.org


Report: Kalki Subramaniam With inputs from Chinasha Notiya